How to Get Personal Direction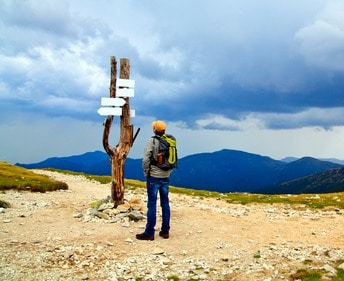 You all know the fairy-tale story of Hansel and Gretel. They are children lost in the woods leaving a breadcrumb trail to find their way home.
In one version, the breadcrumbs were eaten by the birds but there appeared shiny stones that glowed in the moonlight left by their father to guide them home. We each have access to a path back to Source and Oneness.
This fairy-tale story provides us an analogy for life. When we are lost and cannot find our way out of the proverbial dark forest, the Universe leaves us a path to find our way if we will look for it.
Follow the jewels of truth left for you each step through life's perplexing situations.
Send your queries to the Universe, if you look and want answers there are clues provided every day. Just frame your question in your mind as clearly as you can and be expectant of the answer.
The answers to your questions may come back to you in many different ways. Here are just five common ones:
Through something another person says or does that will be just the right thing.
In a book that you just happen to open to the right page. Many times if I am looking for direction, I can open a book to a random page that gives me the exact answer I was looking for.
It may just come into your mind and you know if you trust your inner intuition, that the answer is correct.
By writing a question down and then answering it as if you knew the answer, as if you were counseling yourself the answer appears. Suggested by Neal Donald Walsch order "The Only Thing That Matters"
Even surfing the internet you can come upon just the things that you are seeking but always use your inner guidance to discern the truth.
Tip: To get answers faster be already grateful for the answer you are seeking. (Add it to your gratitude list for the day)
If you are open and receptive you will be surprised how quickly you get answers, or how clearly you will know the answer as it comes to your mind.
Some call this taping into the Higher Mind, some call it your Higher Consciousness, or getting direction from Spirit Guides or Angels.
Whatever you want to call the communications that you receive from within, the communication will delight and amaze you.
See how much easier it makes life to know that you have Divine Direction when you need and want it.
"The answer can't be found in books – or be solved by bringing it to other people. Not unless you want to remain a child all your life. You've got to find the answer inside you – feel the right thing to do. Charlie, you've got to learn to trust yourself" ― Daniel Keyes, Flowers for Algernon
Please share your experience with getting answers in the comment section.
When you tried out sending your question to the Universe what happened?
How did your answer come to you?
ABOUT THE AUTHOR
Lindsay Godfree is a successful author and teacher who was struck by a supernatural experience of transformation and awakening. Her mission is to inspire others with her story and guide them on a journey of authenticity and consciousness.
Read her story here.