During a personal crisis, many of the things you once believed were true, just aren't any more. You need a whole new set of answers. It is not a time to be squeamish about how this truth comes packaged. It IS a good time however to reinvent yourself and use the situation to catapult yourself forward.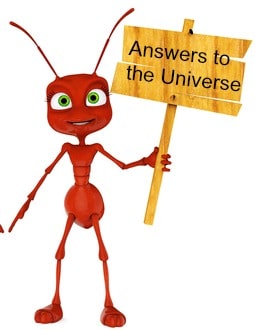 Crisis often happens to force us to look at things in a new way. One of my favorite quotes is by Mark Prophet who said "If your teacher is an ant, heed him." Answers, lessons, and teachers come in many forms during a lifetime.
If you limit how Higher Consciousness will speak to you, you will most likely miss out on much of your life's meaning.
Consider all possibilities as you seek your answers about how to survive and even thrive. Do not limit yourself to the ways that you have perceived and received your truth in the past. This is a new beginning for you, a time of change and growth for you and for the planet as a whole. Everyone will begin to see things differently as there is a shift in conscious awareness moving forward.
What is truth? Many people think in absolute terms when it comes to truth. However, if you have ever been on a debate team you know that you can make a strong argument for both sides of most issues, and both could be true. Not many things can be absolute—only black and white. Often there are many things true, depending on your point of view. And nothing is more certain than change.
Steve Jobs said, "Your time is limited, so don't waste it living someone else's life. Don't be trapped by dogma – which is living with the results of other people's thinking. Don't let the noise of other's opinions drown out your own inner voice. And most important, have the courage to follow your heart and intuition…They somehow already know what you truly want to become. Everything else is secondary."
Steve Jobs got to the heart of the creativity of life by cautioning against getting caught in the trap of dogmatic religious ideas or allowing other people to keep you from following your own inner guidance.
Although you are in a state of uncertainty as your life seems unstable with the changes that you are going through right now; the most important thing is that you step into your future. You will discover new meaning in your life if you will connect with guidance from source. NOW is the time to find your personal God-directed power.
Connect in any way that you feel comfortable contacting Source. Or if you are feeling desperate like I was, then connect in any and every way you can find like I did. Here are some possible actions:
Visualize: Imagine your new life coming to you packaged in bright colorful and shiny wrapping paper. See in your mind's eye a fabulous gift coming your way from your Father in Heaven who loves you and wants you to be happy. It's going to be a big surprise and better than you could ever imagine. Are you smiling? I am. Pretty exciting isn't it?
Affirm: I AM open to blessings from unexpected sources. I AM creating a new life purpose that will thrill me. I follow my heart and intuition.
Pray: Lord help me to see the opportunities and teachers that you send to me. Help me to hear your voice directing my path. And let me speak only gratitude for the blessings that you have already given to me.
If YOU are in a personal identity crisis and don't know how to find a new YOU, it is an opportunity to awaken. I know how it feels and how much confusion and pain is associated with not knowing how to BE in the world. I can help so get on my mailing list and select a "Work With Me" option on my home page, and we will work it out together.
ABOUT THE AUTHOR
Lindsay Godfree is a successful author and teacher who was struck by a supernatural experience of transformation and awakening. Her mission is to inspire others with her story and guide them on a journey of authenticity and consciousness.
Read her story here.